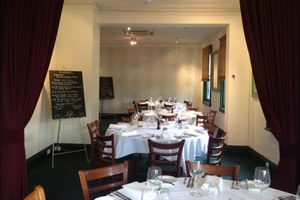 Looking for a venue for your next function? Rubira's has a private function room available to suit your every need. We are able to cater for both sit-down and stand-up functions. With a fully serviced bar and menu's tailored to your dining needs, Rubira's is perfect for any occasion. Keep Rubira's in mind for your next private function and enjoy the fantastic fresh seafood on offer and the superb location at our Port Melbourne Restaurant.
Sit-down capacity - 50 | Stand-up capacity - 80
Seated Function Menus | Premium Seated Function Menu | Cocktail Menus
Seated Function Menu 1
Entree
Shared Rubira's Seafood Platters
Oysters Natural, Oysters Kilpatrick, Fresh Local Bay Calamari, Barramundi Spring Rolls
Mains
Fish platters to share
Market Fresh Fish Fillets - 2 Different Types
Pan Fried Fillets
Oven Baked in Panko Breadcrumb Fillets
*Optional Extra - Southern Ranges Porterhouse - Sliced with Red Wine Jus
Bowls of crispy thick chips and iceberg garden salad to share
Dessert
To share
Premium Cheese Platters Served with Lavosh, Quince Paste & Apple
Pricing:
2 Course $65
3 Course $75
*with Porterhouse: 2 Course $70  |  3 Course $80
Premium Seated Function Menu
Entree
Premium Individual Rubira's Seafood Plate
Moreton Bay Bug, Spencer Gulf King Prawns, Freshly shucked Oysters, Smoked Salmon, Half Shell Flinders Island Scallop with cocktail sauce.
Mains - Shared
A Selection Market Fresh Fish served three different ways (pan fried, Panko breadcrumb, beer battered)
Southern Ranges Porterhouse Marble 4 plus (served medium) sliced to share with Red Wine Jus
*Bowls of crispy thick chips and iceberg garden salad to share
Dessert
Choose 2 to be served alternately
Vanilla Bean Panna Cotta
Fig & Date Pudding
Intense Chocolate Tart
OR
Shared Premium Cheese Plates served with Lavosh
*vegetarian & gluten free individuals can be catered for if pre-arranged
Pricing
Entree & Main $85
Entree, Main & Dessert $95